DIRTY AIR Rear Air Suspension System FAST-UP *WITHOUT SHOCKS*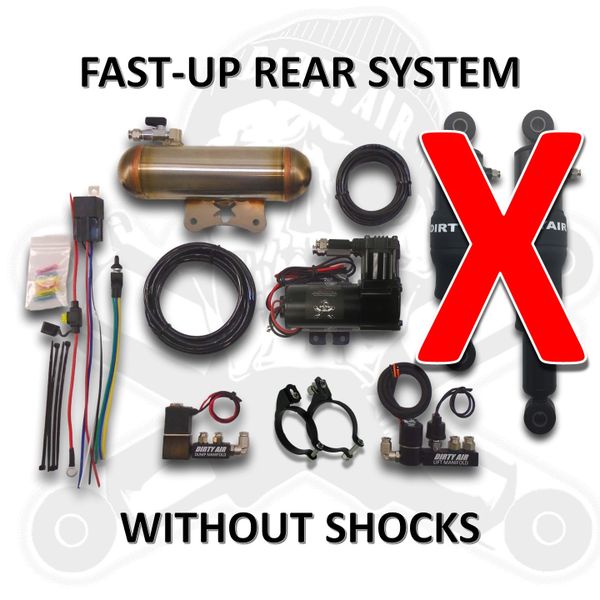 DIRTY AIR Rear Air Suspension System FAST-UP *WITHOUT SHOCKS*
***WITHOUT SHOCKS, comes set up for 5/32" airline to shocks***
DIRTY AIR *FAST-UP* rear system.  Redesigned for optimum performance, reliability and ease of install.

This *FAST-UP* system will normally lift the rear of the bike in about 1 second, instead of the 12-15 seconds that a tankless system takes to lift.


For all Harley touring models 2019-down.  System includes exclusive black air compressor, no shocks.  Custom built stainless steel tank to resist corrosion that include mounting brackets to mount on the fender strut/saddlebag/fender support between the rear fender and saddlebag.  On '08-Earlier models and '14-Later models, we mount the tank on the left side of the rear fender support.  On 2009-2013 models, we mount the tank to the right side saddlebag support.  System also includes compressor brackets to mount securely on the opposite side of the tank.  Call or email us with fitment questions, we try to offer a bolt-on solution for all components on all models, but sometimes there is just not enough room.  '14-Later Models with Boom Audio that includes stereo components inside the saddlebags will have fitment/clearance issues with saddlebag-mounted wire connectors, requiring re-routing of audio wires and connectors.   On some models, antenna relocation or antenna bracket modification may be necessary.  2009-2013 models with "classic" 4-hole tab welded to saddlebag support for saddlebag guards or fender filler panels will not fit without cutting the 4-hole tab off the saddlebag support.  Please check with us first if you have any questions about fitment.
System uses all nickel-plated brass high-flow high-pressure push-to-connect fittings throughout the entire system, and a manifold-style dump valve block for optimum performance.  No need to pay more for another system, and no need to have someone else install.  This system can be installed by anyone with basic tools and basic-to-moderate auto/motorcycle knowledge and experience, and includes easy to follow instructions and wiring/plumbing diagram, and we will help you with any technical questions you have.  In some cases, depending on location and bike model, some mild fabrication may be necessary to mount the air compressor or switch, but normally this system comes with everything you need for an easy installation.  System comes similar as pictured, some parts will vary from year-to-year.  Switch is a mini toggle switch that mounts in a 1/4" hole, and includes a protective waterproof boot.  Please note the optional handlebar grip switch will not fit 2015-up Road Glide models.  MRI electric center stand will not fit with bikes that have a cross-under exhaust pipe - that pipe will not allow the legs to fold up for riding.
1 year warranty on all parts.
FREE SHIPPING TO LOWER 48 U.S.
Add item to cart and begin checkout to see expedited and international shipping costs and options.

CAUTION:  THIS IS A HIGH PRESSURE SYSTEM. AS WITH ANY HIGH PRESSURE AIR SUSPENSION SYSTEM, IF THE BIKE WILL BE LEFT UNATTENDED IT IS RECOMMENDED TO RELEASE THE AIR FROM THE SYSTEM OR PREVENT THE AIR FROM LEAVING THE TANK.  THIS CAN BE DONE BY CLOSING THE SHUT-OFF VALVE ON THE TANK (INCLUDED) MANUALLY, OR OPENING THE SAFETY TOGGLE VALVE SWITCH (OPTIONAL) TO PREVENT ANY POTENTIAL VALVE MALFUNCTION FROM POTENTIALLY RAISING THE BIKE WHILE UNATTENDED.  YOU CAN ALSO RAISE AND LOWER THE BIKE A FEW TIMES WITH THE IGNITION OFF, BUT THEN THE TANK WILL HAVE TO RE-FILL IN ORDER TO LIFT THE BIKE.  SHUT OFF VALVE IS SIMPLE TO OPERATE, WE RECOMMEND ADDING THE SAFETY VALVE IF YOU FEEL THAT THE VALVE ON THE TANK IS HARD TO REACH.  THIS CAUTION IS ESPECIALLY IMPORTANT FOR BIKES USING A CENTER STAND, AS THE BIKE CAN ONLY LIFT SO HIGH WHILE UNATTENDED BEFORE FALLING OVER!!!