DIRTY AIR Rear DYNA Basic Air Suspension System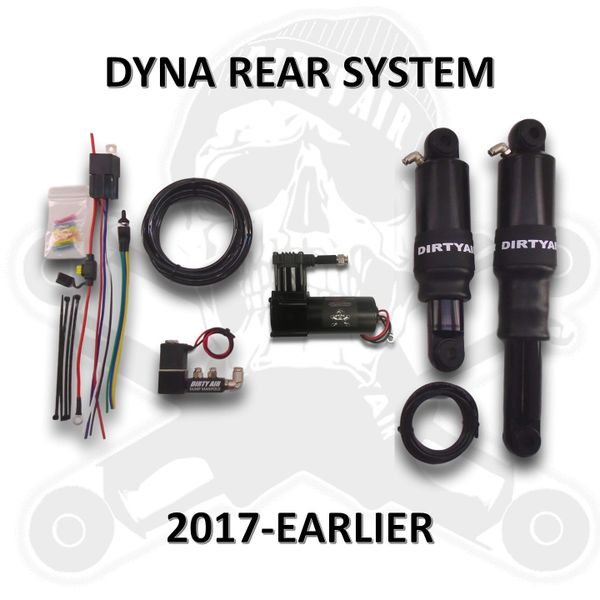 DIRTY AIR Rear DYNA Basic Air Suspension System
DIRTY AIR rear air system for Dyna models.  Designed for optimum performance, reliability and ease of install.

Fits Dyna models 2017-down.  Includes DIRTY AIR aluminum air shocks, standard finish is black.  Standard collapsed height 9.5", extended height 12".  This is a complete system assembled to replace your stock shocks with height-adjustable air shocks.  This system will allow you to lower your bike approximately 2.5 inches with all of the air released, and air it up to stock ride height for a smooth ride in a matter of seconds.  Kit includes DIRTY AIR aluminum air shocks, standard finish is black.  Standard collapsed height 9.5", extended height 12".  System includes exclusive black air compressor, with basic bracket to install compressor in the saddlebag on switchback models, other models will require some fabrication to mount compressor.  System uses all nickel-plated brass high-flow high-pressure push-to-connect fittings throughout the entire system, and a manifold-style dump valve block for optimum performance.  This system includes all of the components for a fully functional, fully height adjustable rear air suspension.   With this system, you can ride with zero air pressure without rubbing. That means you can cruise around with your bike SLAMMED, or also if you ever lost air pressure for any reason you can still ride without rubbing your tire against your fender.  No need to pay more for another system, and no need to have someone else install.  This system can be installed by anyone with basic tools and basic-to-moderate auto/motorcycle knowledge and experience, and includes easy to follow instructions and wiring/plumbing diagram, and we will help you with any technical questions you have.  In some cases, depending on location and bike model, some fabrication may be necessary to mount the air compressor or switch.  Kit comes similar as pictured, some parts may vary.  Shocks are 12" extended, 9.5" collapsed.  Switch is a mini toggle switch that mounts in a 1/4" hole, and includes a protective waterproof boot.
Add fast-up tank/manifold components for an instant lift for $175-$225, please note the universal bracket allows you to mount to a flat surface and is optimized for mounting inside a saddlebag - Currently we do not offer any Dyna frame specific mounts for the tank or compressor, so some fabrication may be necessary.
Contact us for custom shock finishes

1 Year warranty on all parts.
FREE SHIPPING TO LOWER 48 U.S.
Add item to cart and start checkout to see international shipping costs and options.