KLOCK WERKS FLARE Windshield for 1996-2013 batwing fairing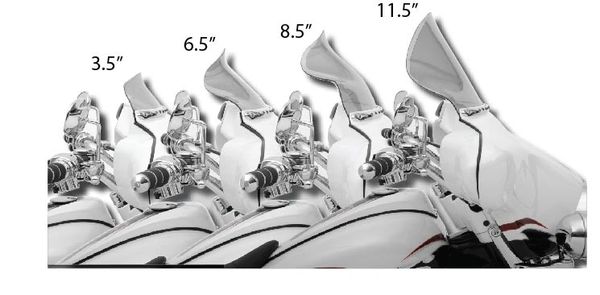 KLOCK WERKS FLARE Windshield for 1996-2013 batwing fairing
Fits 1996-2013 Street Glide, Electra Glide models with batwing fairing.  

The patented FLARE™ Windshield was developed at Klock Werks out of a desire and need for greater stability in order to safely race at high speeds on the Bonneville Salt Flats. The FLARE™ is the ORIGINAL windshield of its kind, and has surprised riders everywhere with not only how great it looks, but also with how well it performs. In fact, its superior performance has made Klock Werks a leader in air-management. The innovative patented design features "hips" on the outer edges that re-route wind away from the rider while creating additional downforce on the front-end of the motorcycle. This results in a significant improvement in wind deflection and front-end stability at highway speeds over using a standard type windshield. The "flip" at the top of the FLARE™ is designed to reduce buffeting by kicking the wind up and allowing it to flow back as "clean", less turbulent air for the rider. Don't be fooled by imitations! The superior patented design and the highest quality materials are what make the Klock Werks FLARE™ Windshield an ORIGINAL. Please read the information below to help choose the right size for you:

In most cases, we recommend that you choose a height you can comfortably look over instead of one you would have to look through.
Klock Werks FLARE™ Windshields are measured from the center bolt hole to the start of the flip on the top of the windshield.
Wind tunnel designed and tested, the "hips" provide added downforce while the "flip" directs air over the rider to help eliminate the swirl of air found behind a standard windshield.
The 3.5" is designed for shorter riders and those accustomed to using a short windscreen. Comparable in height to stock Street Glide windshields.
The 6.5" was the first height created for batwing style fairings. Works great for average height riders. Popular on Street Glides. Does not fit with 3-pouch windshield bags, but does fit the new Klock Werks NAV-BAG!!
The 8.5" blends the sporty style of the 6.5" with the taller touring height and performance of the 11.5". Suited for riders tall enough to look over only. Works great with GPS mounts and 3-pouch windshield bags.
REMEMBER - a shorter FLARE™ Windshield will still perform better than a standard type windshield that is 2-3 inches taller thanks to its unique design and the way it deflects the wind.
The 11.5" is our tallest model and is comparable in height to a stock Electra/Ultra Glide windshield. Offers the most protection while still providing downforce and the benefits of the Original FLARE™ Windshield.
The tallest size is ok to look through if that's what you want or need, but all other sizes are designed to be used ONLY if you can comfortably look over them.
The Black, Chrome and Black Chrome color options are completely OPAQUE which means you CANNOT see through them. You MUST be able to comfortably look over them.
Fit 1996-2013 FLHT, FLHTC, FLHX, FLHTK, FL Trike models, and various aftermarket batwing style fairings. Easy installation using stock hardware.
Select options also available for 1986-1995 FLHT & FLHTC models. Same options also fit Hoppe's 5-bolt aftermarket fairings. (see part numbers below)
Lexan® Polycarbonate with FMR hard coating is used to create these custom-molded patented designs with unmatched durability.
RECOMMENDED CLEANER: KLOCK WERKS SHINE WERKS! Or clean with soap and water. Follow up with polish such as Novus or Plexus if desired. Do not use rain sheeting products or cleaners with harsh chemicals, ammonia or petroleum distillates.
Made in the U.S.A.